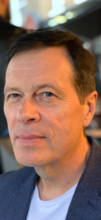 Alan Powell.png
Many years ago, HM Customs and Excise's Revenue Duties Divisions found themselves relocated from the South Ban...
Excise duty fraud, particularly in beer and wine, is a significant problem for the Exchequer and legitimate bu...
Unlike other tax regimes, one cannot simply apply to HMRC for an appropriate registration to carry on an excis...